Welcome to the
Blue Iris Cloud
wiki. This article contains instructions on how to properly setup and use
BI Cloud
, powered by IP Cam Talk. Blue Iris Cloud is a cloud based / remote backup solution for BI. In a few seconds you can easily set up your BI machine to start backing up your footage to cloud, with easy video management right from IPCT.
Getting Started
Signing Up
The first step is signing up for
Blue Iris Cloud
, which is part of
IPCT Plus
. IPCT+ is a subscription based group of tools and services available to IPCT members.
Click here
to sign up for IPCT Plus or
click here
for more information.
Creating Blue Iris Cloud Account
After you sign up for IPCT+, visit the
Blue Iris Cloud
page to get started. You will be greeted with the following screen.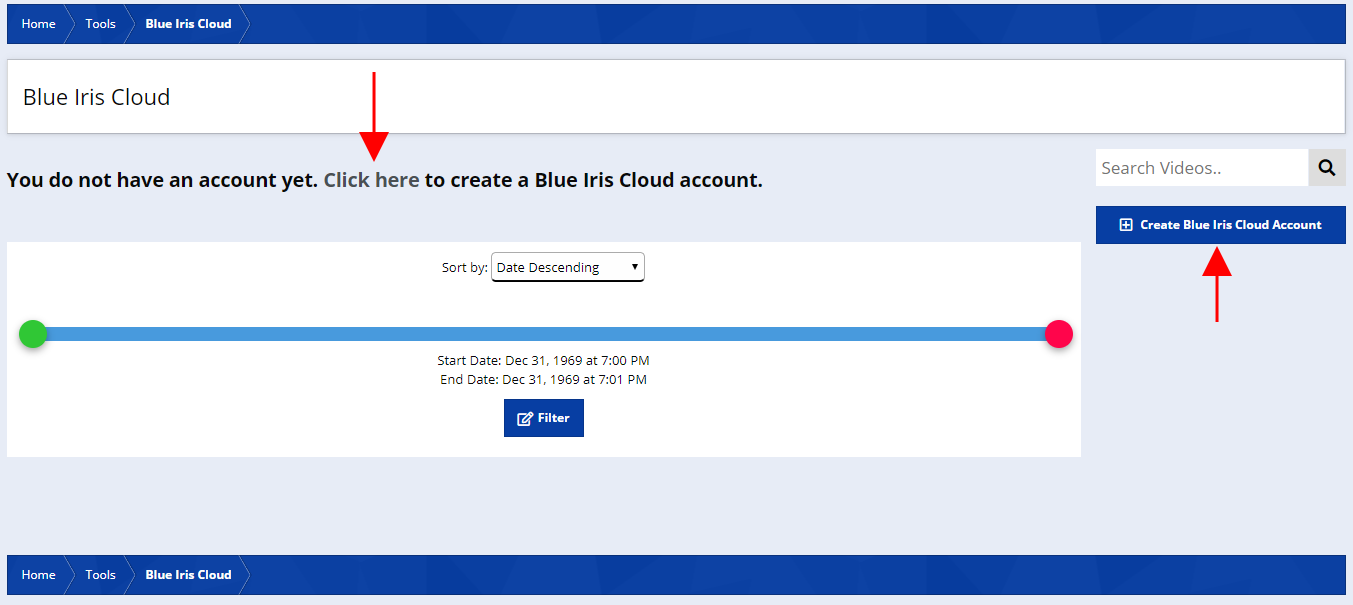 Click on the "Create Blue Iris Cloud Account" button on the right hand side (or the 'Click here' link in the description). You will then be redirected to the same page but will see some different details on the screen, such as an "FTP Details" button, a search box and more.
Adding BI Cloud to Blue Iris
From the BI Cloud page, click on the "FTP Details" button.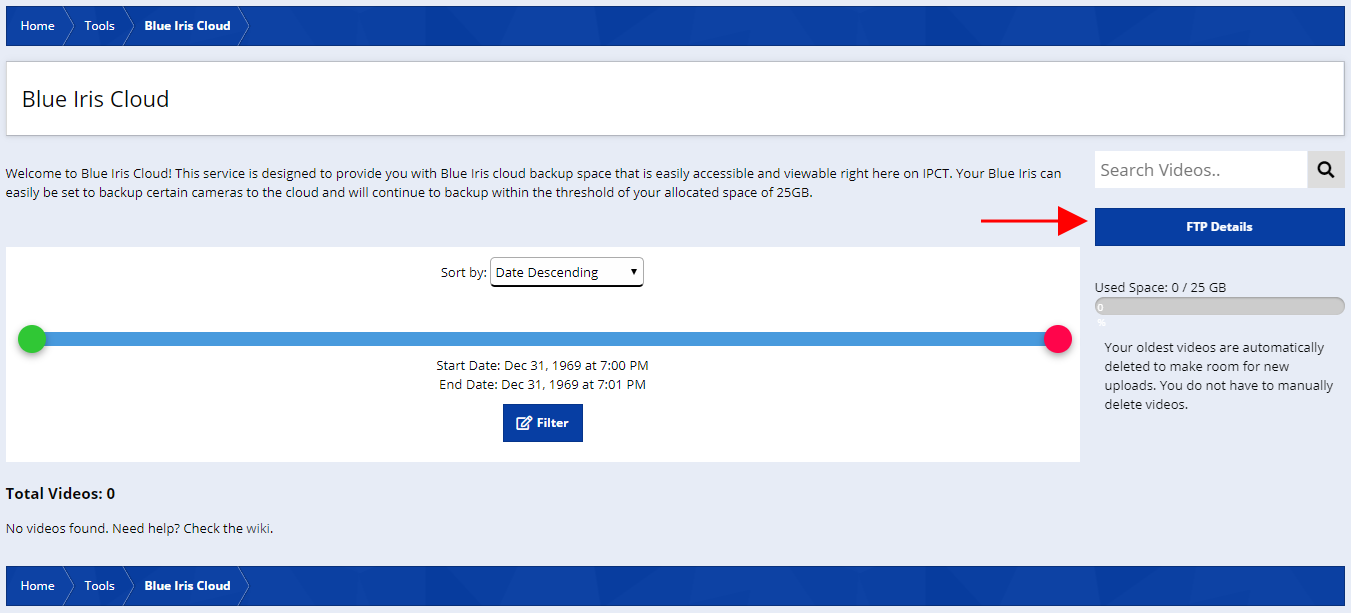 The next window will display your Blue Iris Cloud FTP backup details, however you do not need to manually input them into Blue Iris. Instead, you may click on one of the download buttons depending on if your system is 64-bit or 32-bit. The file download will be a .reg file which will import the Blue Iris Cloud server directly into Blue Iris for you. If you are prompted by a virus scanner, the file is safe.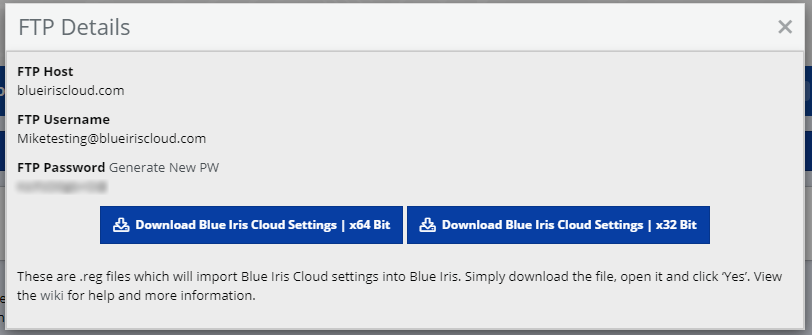 Click on whichever button corresponds with your system to download the proper file. Once the file is downloaded, open it up.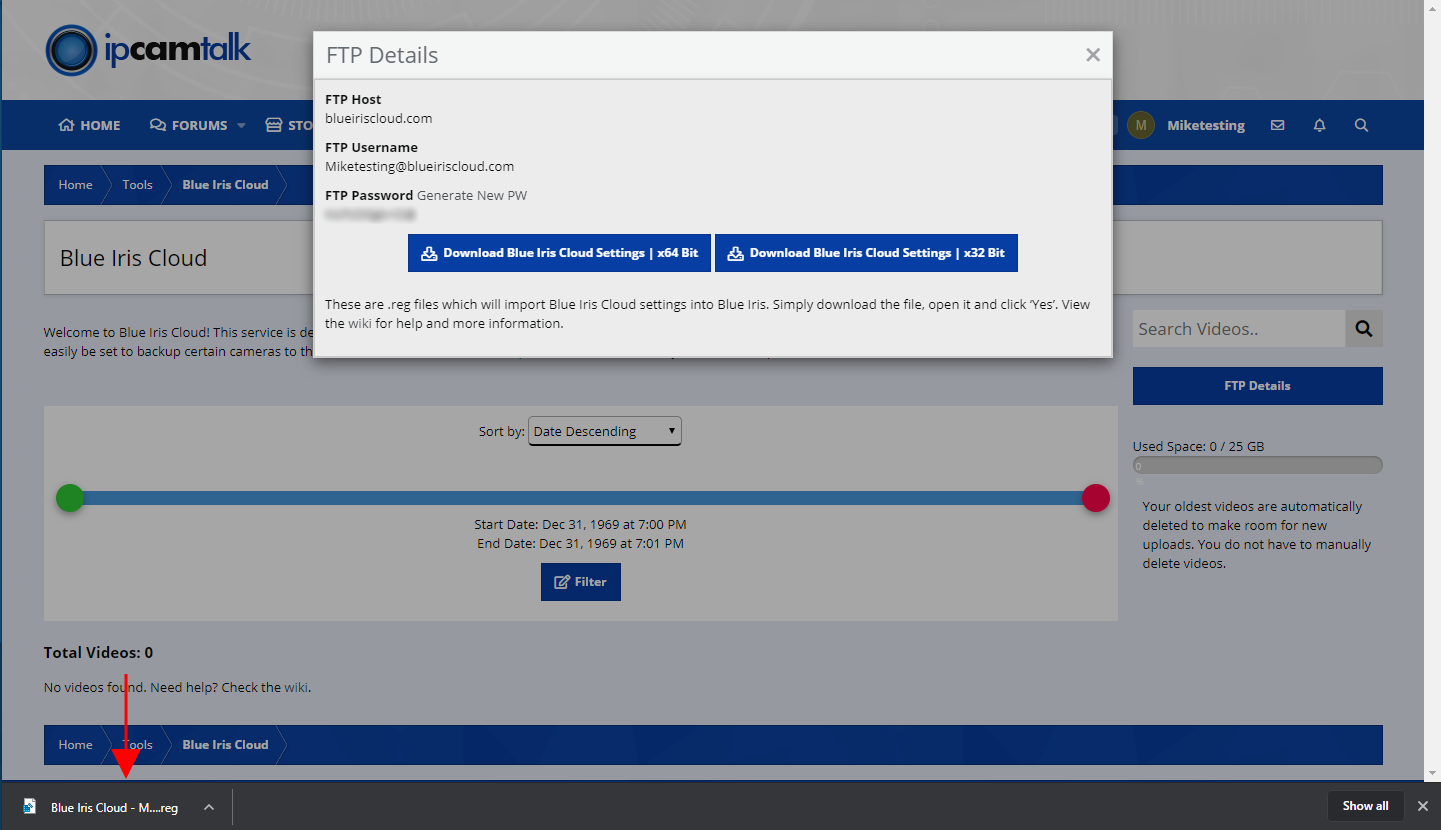 You will be prompted with the following message, click "Yes".

If successful, you will see a similar message. Click "OK"

Your Blue Iris Cloud account is now imported into Blue Iris and is almost ready for use! You may verify the account has been added in "Blue Iris Settings", then the "FTP servers" tab:
Recording Cameras / New Clips
Now that your Blue Iris Cloud account has been added to Blue Iris, it's time to configure the backup process. Blue Iris gives you the option of recording all clips from all cameras, or new clips from specific cameras. In my opinion it is best to record new clips from specific cameras if you have already been using Blue Iris, as opposed to a new installation. The reason for this is because the "Queue for backup" option in the Blue Iris Settings "Clips and archiving" tab will queue all clips stored in the new clips folder as opposed to new clips from the time of setup. In other words, your Blue Iris will start backing up old clips as opposed to new ones. The solution for this is to configure backup on a per-camera basis.
Right-click the camera you want to backup and click "Camera settings..." then the "Record" tab. From this screen check "Queue new clips for backup". It is also recommended that you "Combine or cut video" every 1 hour with a 1.0 GB file, otherwise large files will be backed up.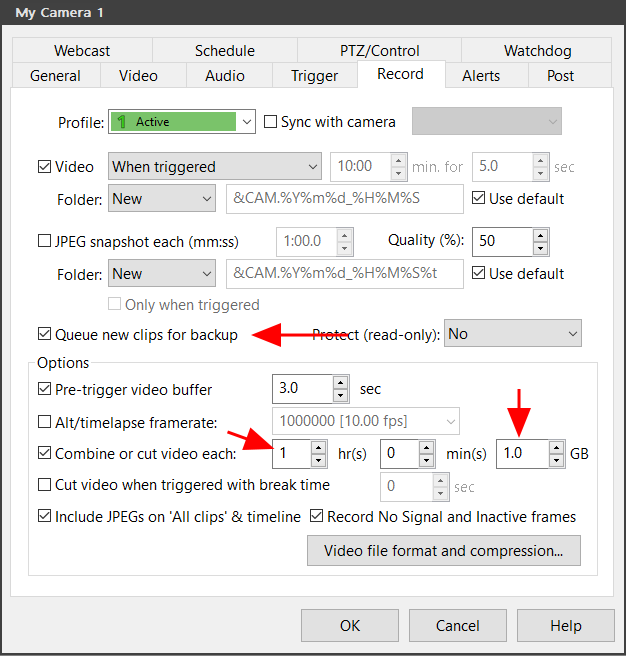 Recording All Clips
*This is optional. If you would like to backup all clips, including clips already in your "New" folder, go into Blue Iris Settings, then the "Clips and archiving" tab and enable "Queue for backup". Please remember that this will backup all files in your "New" folder, including old clips. In most cases you will not want to enable this, you would want to use the method above. This method is good for brand new installations of Blue Iris where old clips won't be uploaded, or small "New" folders.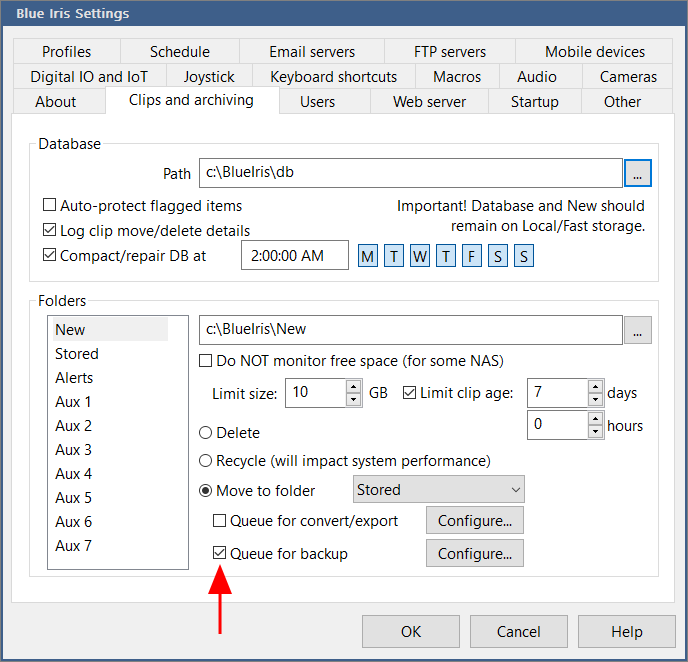 You're all set! Your Blue Iris system is now configured to backup your new clips to the cloud.