Joined

Aug 19, 2020
Messages

160
Reaction score

666
Location
I hope all are safe and healthy. I am installing 10 ip camera's in my house. I just finished phased one, which as was to put a cat6a drop in each room of our house. That was 9 drops and I had about enough of the attic for now.
My first camera I will install will be on our porch. Now, I live in San Antonio Tx. OMG its freak'n hot Texas. So, I have to be careful how I mount my camera here as this area is fried by the sun, intensely. I will include a picture of my overhang to help better show what I am asking (when it is sun up). Basically, I want to have a drop down rod/mount that peeps below and out of the brick overhand, enough where direct sunlight will not affect it. I will be buying Dahua barrel ip cameras, so that is not in question. The mounts are. So far I have found:
Amazon.com : Hikvision DS-1271ZJ-110 CPM PC110 Ceiling Pendant Mount Bracket for Hikvision Dome Camera DS-2CD2132 : Camera & Photo
Amazon.com : VideoSecu 24-40 Inch Adjustable Tilt Swivel Bracket Long Drop Ceiling Mount Stand for CCTV Security Camera Housing Home Surveillance System 1P4 : Camera & Photo
and this one....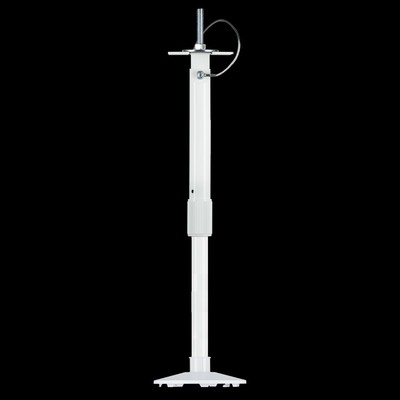 This 2′ 7″ pole features a flared. Mounts to Channel or Strut Mount with One Bolt. Safety Cable. CE-CP3W NEW IN BOX with all hardware/manuals.
I read somewhere about making one out of galvanized pipe and painting it to match, but can't fine any examples. As for the length, I haven't gotten on the ladder yet, but I am guessing 20", give or take. That is why the expandable ones are more appealing to me. I am quite handy at making things, so modifying these would not be a problem.
Thanks and please be safe.
Semper Fi!